LEVELING THE PLAYING FIELD
In the age of social media, everything is about appearance – using filters and effects and pouting your best face forward. Female athletes have felt the heat of unrealistic expectations from society. Athletes still hear that to win or be worthy: be perfect, be beautiful, be feminine. Over the years these unrealistic expectations have translated into stereotypes.
Here is a list of some common stereotypes and some amazing women breaking them.
"You throw like a girl"
"You throw like a girl" – one of the most widely used sports stereotypes. Almost all of us have heard it growing up. Implying that to do something "like a girl" is to do it the wrong way. Such stereotypes help create an assumption that women are less than men. The stereotype acts as a discouragement for girls and helps build a mindset in society that girls aren't good athletes.
Well, here is Michelle Carter, a shot putter and the current Olympic Women's Champion throwing like a girl.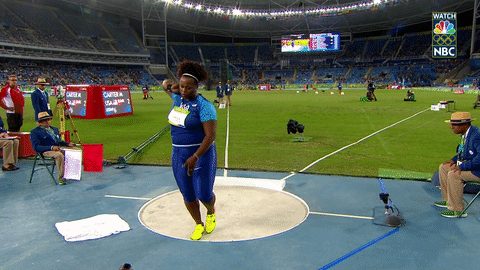 A Man's Sport
Football, wrestling, boxing, rugby, basketball and the list goes on and on. All these sports are considered a man's sport. Women are traditionally supposed to be delicate and composed. Therefore, they are often dismissed in violent or contact sports. Young girls are instead asked to join something more girly.
Here's Ann Wolfe scoring a knock out, one minute into round one against Vonda Ward. Doesn't look like just a man's sport.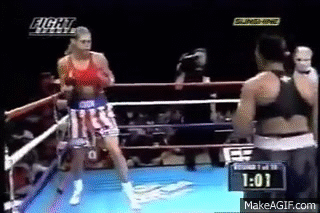 Muscular But Not Too Muscular
This stereotype also stems from the societal belief that women are delicate and weak or at least weaker than men. Female athletes are expected to be muscular but not too muscular. This is the phrase of choice for people threatened by strong women.
Naomi Wolf in her book, The Beauty Myth explains it as: "A culture fixated on female thinness is not an obsession about female beauty, but an obsession about female obedience. Dieting is the most potent political sedative in women's history; a quietly mad population is a tractable one."
From a young age girls are brainwashed into voluntarily physically debilitating themselves. This tips women away from becoming strong, healthy and powerful and leads to eating disorders.
"I think growing up, especially for young girls in judo, it's really difficult. You're told the lighter you are, the better you'll fight," Kayla Harrison, Olympic Judoka told ESPN. "What I truly believe is that if you're going to win, you'll win at whatever weight you fight. I always preach that strong is beautiful, strong is powerful, and you shouldn't change your body for sport, for society, for anything."
Pretty Please
Female athletes are expected to look perfect whether on field or off field – not sweaty or tired or out of breath but beautiful, feminine and perfect. To win or to be worthy they must be perfect. Female athletes regardless of their success are more often than not subjected to body policing.
Trying to fit into this image has serious consequences particularly around puberty, when body size, hormones and muscle strength change. According to a report by the National Eating Disorders Association, an estimated 62 percent of female athletes in aesthetic and weight-class sports suffer from eating disorders.
Heather Fisher is an English rugby player. She has severe alopecia, a condition which leads to hair loss. She has struggled with body image issues due to her hair loss that led to anorexia. She says, "Living with an eating disorder is like having someone in your body controlling who you are and how you think about yourself. It's like you're in the driving seat of a car and your hands are tied: you know you need help, but you don't know how to ask for it."
Motherhood Over Sports
There is an assumption that women quit sports after having kids. This might be true in some cases but there are a number of underlying factors. Unfortunately, athletes do not get paid maternity leaves. If you are not on the pitch, you are not making money. When athletes go on their maternity leaves many brands pull back their endorsements.
For example, Serena Williams was the only woman listed on the Forbes Top 100 Highest Paid Athletes in 2017, but after giving birth and taking maternity leave, she was no longer on the list in 2018. There were no other women listed in the top 100.
Williams won a Grand Slam tournament when she was two months pregnant and was back in the court eight months after giving birth to her daughter. There's nothing that can stop her.
HOW FEMALE COACHES EMPOWER YOUNG ATHLETES
When Sylvia started coaching, she wasn't taken seriously.
Most evenings you will find Sylvia standing in the corner of Western University's purple indoor track. The track circles around a hockey rink which makes the air cooler than you would have expected when you walk into the arena. Sylvia wears a Western branded jacket to keep herself warm as her coaching conditions are a little different than most.
Sylvia is the head throws coach at Western University. She coaches shot put, weight throw, discus, javelin… you name it. Her schedule consists of early morning weight training three times a week on top of the usual throwing technique practices that are held every weekday. On top of practices, Sylvia and her team compete most weekends when the season starts.
Through her career, she has coached junior national medalists, legion national medalists, OUA and CIS medalists and is number eight on the UWO All-Time Top Ten List.
Still, she is not treated equally.
"It remains to this day, a power struggle." She says over the phone.
As a female throws coach, Sylvia is constantly having to defend herself because of her gender, despite her years of coaching experience. One of her bigger struggles has been to get male athletes in the program as she is only seen to be successful with female athletes.
She tells stories about the numerous times that she has been ignored, belittled and even physically stepped in front of when coaching her male athletes. It is an instinct for the male coaches in this event to confide in other male coaches because throwing is assumed to be a male-dominated space. At a meet full of male coaches, Sylvia stands there, proud and confident giving her athletes instructions.
That being said, she doesn't let her dismissal among male coaches take away from her throwing team at Western. What makes her team so special at Western is the fact that her team is mostly made of women.
Before every meet, the Western women's throwing team gets into the middle of the pit and stands in a circle. They all put their arms around each other and hype each other up like a team, regardless of the fact they are competing individually. Sylvia snaps pictures from the sidelines letting her girls lead the way.
One of Sylvia's athletes Hannah Diebold said that it was always pushed that strong is empowering. In a recent study, ESPN interviewed student-athletes about body image, 30% of female student athletes are still afraid of becoming too muscular.
No one body would have an ideal body for all sports. Every woman's body in athletics is different and Sylvia made sure that her athletes know that they can be strong and still be feminine.
Not only was Hannah learning to be empowered by her strength but she was learning that you can be empowered by more than one thing. It is always such a fight for these women to be taken seriously in a strength sport as a woman. It can be so easy to be put into a box.
"We are always trying to prove ourselves to be more than just strong but to be athletes in general," Hannah said.
Sylvia makes it a priority to make a community and a chain reaction for the athletes she is coaching. Every season the team gets introduced to their teammates, coaches, and alumni as family. She said how important it is for these women to see each other as supporters and a community to empower one another.
This chain reaction does not just end with her university athletes. Sylvia encourages the university kids to interact with the kids she is coaching in high school.
"I like my high school kids to see that these women are excelling at sport and school at the next level." Sylvia said.
It isn't just about athletic success. It is about seeing a group of women be friends, compete, build confidence and enjoy themselves in sport. It is about not being put in a box. It is about being more than just one thing. More than just a woman. More than just strong. More than just a thrower.
Female leadership may not be the whole answer but it sure is a part of it. Having a coach that understands what female athletes are going through and has a similar lived experience can make all the difference in keeping young girls involved in sport.
"Not every woman is a good coach, but not every man is either." Sylvia said.
THE SEXUALIZATION OF FEMALE ATHLETES
For female athletes, being talented, determined, and hardworking isn't always enough.
Whether we choose to admit it or not, 'the unfortunate importance of beauty' is alive and well in the sports industry.
At all levels of the game, female athlete's outward appearances are observed and cast judgment upon in some way or another.
In the case of the world's top athletes, a price to pay for their success is regular surveillance and feedback from those watching.

Male and female athletes will both experience sexual objectification in their lifetimes. But the sexualization of female athletes uniquely undermines the legitimacy of female athleticism and female sports, unlike their male counterparts.
The sexual objectification of women involves them being viewed primarily as an object of male sexual desire, rather than as a whole person.
The sexualization of female athletes specifically concerns the matter of valuing their attractiveness above all other characteristics, particularly their athleticism.
The sexualization of female athletes has far-reaching impacts.
Young female athletes are socialized in accordance with the understanding that they must maintain beauty while also pursuing their athletic dream, this implicitly shapes their development as an athlete and can alter their level of training.
The sexualization of top athletes can result in greater coverage and admiration for female athletes of higher levels of 'attractiveness'.
As a result of their eye-catching good looks, society often places these female athletes in higher regard and deems them athletically superior to others of the same calibre.
Most concerning is that this same objectification uses a female's athleticism against them to further enforce unfair beauty standards.
As a female athlete, the pressure is two-fold. One must be in peak physical condition for their sport while also maintaining society's perceived conditions for beauty.
This paradox has resulted in some of the top female athletes of our time still being torn down for looking 'too muscular'.
As if a Golden Slam win was not enough.
Consequently, many female athletes, of all levels, compromise their game to avoid gaining muscle and "looking too manly".
Women just can't win, and when they do, they are shamed for not looking right while doing it.
Questioning an athlete's fitness or preparedness has never been out of bounds, but for female athletes their "preparedness" is often judged through the lens of the sexuality and beauty requirement placed on them by society.
Female Olympians have previously been called fat and too out of shape to compete without acknowledging their accomplished medal-winning record.

Meanwhile, male athletes are given adoring nicknames and catchphrases ("dad bod") for their less than toned figures, and not once questioned on their ability to compete.
The double standard is all too evident as male athlete's figures change and no one speculates if they've "lost it".
As Kavitha A. Davidson notes, for male athlete's their attractiveness does not impede our perception of their athleticism, as it does for women.
Additionally, a male athlete's attractiveness has an incredibly lesser impact on their financial gains as an athlete, than a female's does.
Since classic models of earning through athleticism and talent do not exist for women as they do for men, top female athletes must often wager their beauty and sex appeal in hopes of garnering higher marketing potential.
Competing in sports should not revolve around someone's appearance, it should focus on their unique talent and determination.
But this will not change until our socialization does.
One way of instilling these ideals into our society is through the visual representation of our top athletes.
The ESPN Body Issue is a special annual feature meant to celebrate the power of the athletic form.

For ten years now, the world's top athletes have graced the cover in all their nudity in hopes of representing the many shapes and sizes that a powerful athlete can be.

However, the unique sexualization of women is rampant throughout.
The most notable difference between the male and female photoshoots is the emphasis on strength, power, and the male's sport, versus beauty, smiles, and nakedness for the female athlete's photos.
In 2010, Julia Mancuso posed for the ESPN body issue.
Julia Mancuso is an accomplished alpine ski racer and Olympic gold medalist.
Below is her cover shot compared with another talented skier and Olympic medalist, albeit he is male.
Here we have two athletes competing in the same sport, both reigning Olympic champions, but we're being told two entirely different stories.
Julia Mancuso's photo hardly even informs the viewer what sport she plays, considering they posed her in a hayfield rather than the snow of all things.
Another stark comparison was depicted in the 2009 ESPN body issue seen below. The emphasis on a smiling attractive female compared to a strong athletic man is explicitly clear.
Both these athletes are American professional soccer players. Natasha Kai is also an Olympic gold medalist. Neither of these athletes looks less athletic or stronger than the other here.

However, posing and placement is everything when telling a visual story. The details matter.

Yet, again, we have the female athlete without any indication of what sport she even plays.

Oguchi Onyewu is posed with a soccer ball and a powerful stance on the block amidst a serious expression. While Natasha, no doubt looking amazing, has no reference to her sport or athletic prowess.
Over the last ten years, there have been some improvements as is evident in the two cover shoots below of female surfers.
At first glance, these photos may appear similar in style, but what is markedly different between them is an absence of what is known as the male gaze in their imagery.
The "gaze" is a term that describes how viewers engage with visual media.
The male gaze suggests a sexualized way of looking that empowers men and objectifies women.
In the male gaze, the woman is visually positioned as an "object" of heterosexual male desire. Her feelings, thoughts and her own sexual drives are less important than her being "framed" by male desire.
The male gaze is apparent in Claire Bevilacqua's photoshoot from 2009, where greater emphasis is placed on her nakedness than her athleticism. In Lakey Peterson's 2019 photoshoot, the nakedness is still there but the focus has changed.
Both these women are top athletes and equally impressive, that is why their visual representation matters.
The ESPN issue in its right is progressive, as it shows bodies of all kinds and challenges what we expect out of a professional athlete's physique.
But there is still a long way to go in the 'equal objectification', if you will, of men and women amongst their annual issues.
Double standards for the objectification of men and women show up in uniform rules as well, specifically the highly watched sport of beach volleyball.
Since 1996 when beach volleyball was introduced to the Olympic games, the sport has grabbed the attention of many television viewers.
Back then, viewers could expect to see women diving over the sand wearing matching bikinis.
The uniform options included only a bikini or a bodysuit, most women chose the former since the bodysuits are specifically designed for colder weather.
All the while, men were playing the exact same sport in shorts and tank tops.
Ironically, most male beach volleyball players play shirtless by choice, yet at the Olympic games, they are required to cover up, unlike their female counterparts.
This raised the question of whether women were being exploited for their bodies specifically during televised competitions.
Not all players or countries have had an issue with the bikini requirement, but for a long time, the beach volleyball uniform had been excluding players due to religious or cultural sensitivity reasons behind not being able to wear the uniform.
In 2012 however, the uniform requirements received a much-needed update. New options finally granted women slightly more coverage and welcomed new competitors to the game.
As of 2020, the options still remain relatively limited.
Women may opt for a T-shirt style cropped-top paired with 3cm above the knee-length shorts, or a sleeveless tankini style top and shorter shorts sitting 26cm above the knee.
For those with stricter personal allowances, they are still only permitted to wear the cold weather full piece bodysuit.
There are some critical distinctions to be made within the guidelines…
Men are permitted tanks with "open arms", while women are permitted tanks with "deep cutaway armholes on their back, upper chest, and stomach".
It is hard to rationalize a technical or physical reason why women need a more gapingly open uniform for the same sport.
Additionally, in the opening page for Tokyo 2020's uniform guidelines under "Concept", The Fédération Internationale de Volleyball states,
"Beach Volleyball athletes compete in a beach and open-air environment and are required to project a healthy image to the audience, media, partners, etc."
It is curious as to why the first sentence of a uniform guideline book immediately acknowledges the importance of the viewers above anything else.
Most importantly above the technical, practical, or performance-enhancing aspects to a uniform.
The components that impact the game, not our view.
Yet again, prioritizing the physical appearance of players over their athleticism.
WOMEN IN SPORTS FILMS
How many films or television shows can you name that centre around sports, or characters whose motivations lie in their dedication to their sport? It feels like every CW protagonist is concerned with the balance between their social life and their place on the school's team. We have shows and films like Friday Night Lights, which centre on the way a high school football team impacts its smalltown home. We see Troy Bolton from High School Musical sing about having "his head in the game, but heart in the song." We watch as Coach Carter influences his team to reform their lives through sport.
But how many films or television programs show girls in the same circumstances? Do we ever see women's sports teams existing as entities that unite their schools, or their hometowns? Do we see women's teams get the same kind of support or recognition that men's teams do?
When we see women playing sports in media, it's for one of two reasons: she's confronting gendered expectations in her chosen sport (think A League of Their Own, She's The Man, or Million Dollar Baby) or she's playing a sport that's traditionally associated with women and femininity (Bring It On, Ice Princess), with very little in between.
Women just aren't offered the same opportunities in real life or on-screen. If a girl in a film is into sports, it tends to become her whole personality. There is no room for her to wrestle with herself about artistic ambitions vs her desire to play sports. If there's conflict about her personal life vs her sport life, it will usually centre on how she can maintain her relationships, either romantic or familial.
It feels like women have to choose between what she wants to be and what she wants to do. Much like in real life, the conflict rests in whether the female character in question can "have it all." Can she be invested in her hobbies, have a good relationship with her family and enjoy the companionship of a significant other? Can she balance everything she hopes to achieve?
In contrast, if men's sports films have a conflict that centres around their families, it's usually about the destructive nature of their chosen sport, and how they're putting themselves in danger to participate. For women, it's not about whether the sport will harm them, it's whether the women can play the sport at all, and if she can, how it makes her "unladylike." Usually, this woman has to deal with an unsupportive family. While there's something empowering in making it happen yourself, despite naysayers, it still reflects the realities of how women are forced to choose one thing or the other.
The stories about female athletes become stories about the men in their lives. In Million Dollar Baby, working-class Maggie's triumph in the ring ends midway through the film after she is paralyzed. This makes way for a drama that centres on her male trainer's moral dilemma about whether he should honour her wishes and help her die. She goes from fighting against the expectations of her gender, to a daughter-surrogate that helps her trainer reconcile with his real daughter. She ends the film as a device.
That story is a tragedy.
It's not wrong to like these films, to find Million Dollar Baby moving or to find Rocky inspirational. We just must highlight the discrepancies between the two movies and their working-class heroes.
When men lose, they can still find a way to win. When women lose, they lose.
Fiction mimics reality and reality mimics fiction; that's the way it has always been. Fictional men get to win against the system, win championships, be the heroes; women are lucky to just be in the system at all, and are heroines because they beat gendered expectations.
When gender is at play, even in fiction, nothing is fair.
WHERE WOMEN IN SPORTS AND WOMEN IN VIDEO GAMES MEET
Women are often underrepresented in video games, regardless of gender. While that has begun changing in recent years, it is still not the norm to see playable female characters at the centre of big-budget games. Games are considered a male-dominated industry, both in terms of the consumer base and in terms of development teams. While the question of whether men actually dominate the industry is up in the air, it is nevertheless true that women are underrepresented.
This goes doubly so for representation as playable characters in sports games.
By "sports games," we are not talking about things like Mario Tennis, where you can play as a variety of Super Mario characters. We're talking about the big, tentpole, annual releases of games like Madden, FIFA and NBA Live, where female players are relatively unheard of; in the case of Madden, it makes sense; there is no female equivalent to the NFL. But in the case of NBA Live games and FIFA, there are female teams that are included, to better represent female players in the leagues and perhaps attract female gamers to the games in the first place.
FIFA added female characters to their roster beginning with FIFA 16, released in 2015. In 2017, the game added a fictional female character in the story mode of FIFA 2018, allowing players to experience a new side to the sports world. The change was refreshing; representing women in a non-cutesy sports game, as the serious athletes they are, was a step in the right direction.
Of course, that didn't mean there wasn't criticism. The FIFA 16 female player reveal trailer on YouTube has a split between people who thought EA's introduction of female players was long overdue, and those who thought that it was unneeded. Criticism took on a sexist angle, asking why EA had "wasted" resources to include female teams. That no one wanted to play as a female character or play as female teams when they could play as men, that the game was bending to appease feminists, that adding women to the game was outlandish and would be followed by animals.
One commenter specifically asked that the game add "empty stadiums" at the female teams' games to capture reality.
All this, in response to the concept that female athletes deserve to be represented, too.
While gaming is traditionally seen as a masculine hobby, studies and data show that almost half of the gaming audience is female. With FIFA's popularity with hardcore and casual gamers alike (FIFA 2018 was able to sell 24 million copies worldwide), it stands to reason that a large percentage of FIFA fans are, in fact, female.
And why wouldn't they be? FIFA is geared to be accessible for a broad audience, and many play it with their friends as a way to socialize. While some take it seriously and go pro (in e-sports), many just want to play online with their friends.
NBA Live's addition of the WNBA also helps people form a bond with the league and its players. When NBA Live unveiled their WNBA trailer, the comments were all over the place. In almost an exact recreation of the reaction to FIFA, one commenter said, "now the WNBA's one fan can truly be happy" as a way to dismiss the genuinely progressive move to include the WNBA.
But, again, there were people in the comments cheering the decision on. Another commenter said the decision was the right business choice, as it pushed rival developer 2K to step up their game, so to speak. They also mentioned that it's better to innovate and give the audience something new, rather than just the same thing every year with little variation.
And, like in FIFA, players aren't required to go through the female league games, or do a career mode campaign with a female character. But it's there for the people who do want to see female athletes represented, and it's there for the people who are just curious about the leagues they aren't familiar with.
Creating a more welcoming environment for female players (both of the game and of the actual sport) encourages people to understand the world of female athletes. It creates a familiarity, with the team, with the position, with the players that can't even be reproduced by just watching the game. It's the kind of thing that can only be done when the experience is inherently immersive, and requires the active participation and thought of the audience member.
When people say you have to "walk in someone else's shoes" to understand where they're coming from, they don't mean it so literally.
But maybe games like FIFA can begin bridging the gap between female and male athletes and create a more inclusive, welcoming environment to both female athletes and female fans.
STRENGTH ISN'T JUST AN ADVERTISING BUZZWORD
Think about ads.
Think about sports ads.
Then think about sports ads aimed at women.
"Strong is beautiful," says WTV.
"Now confidence comes in all sizes," says Nike about a sports bra. (Despite the thin, conventional beauty of the model)
All these things are well and good; women have been an oppressed class for a very long time, and seeing ads that tell them to break the psychological cages that beauty standards enforce on them feels a lot like empowerment.
But is it?
What does it say when the women in these ads tend to be conventionally attractive, thin and overtly feminine? When ads tell women that beauty isn't important when they're strong and capable, but places beautiful women as the subjects of those ads? The world wants to tell women that conventional attractiveness is a trait of a less progressive society, but they just end up enforcing the status quo.
We want to believe that everyone is beautiful, and everyone is in their own way, but we place qualifiers on what beauty means. It's not kindness or thoughtfulness, or generally being a good person, it's just another type of body. A new ideal that women have to achieve to feel like they're worth attention. These ads want to tell women that their bodies don't matter as long as they're strong, while also enforcing the idea that there is an ideal body type, ignoring those who don't fit into that mould.
Of course, athletic women deal with a lot of scrutiny when it comes to their bodies. If they're visibly muscular, they may feel like they've been stripped of their femininity because they too don't fit a specific mould. It's a tricky tightrope to walk, and while advertisers are trying to be more inclusive by showing these "unconventional" body types, there is still a coded message: that bodies must be a certain way to be accepted, and if they're not then those ads aren't for you.
And even then, physically fit bodies are not met with the same kind of criticism or scorn as plus-sized bodies. There's a bit of a mind trick going on to convince people that strong, fit bodies weren't always considered an ideal to be aspired to. Since advertising began, women have been told that they should aim to be physically fit.
There's also the question of ableism in these ads: some people just cannot do the things that these ads celebrate, and are rarely represented in media at all, let alone media that would celebrate their bodies. Does that make them less worthy of the label of "beautiful"? A lack of physical strength?
And then, there's the issue of how strength is defined.
Why is it just about bodies? Why doesn't it include the kind of strength you can't see? If a person struggles with depression and has a lot of trouble functioning on a day to day level yet does so anyway, isn't that an example of strength? Where are the ads for people who exist in a world that does not make it easy for them?
Why do we have to define strength (and, therefore, beauty) as physical? It can be so much more than that.
And why do we let ads create the definitions for us?
These ads have an insidious effect on the way women perceive themselves. Now, women have to not only be beautiful; they have to have the physical strength of an athlete to feel like their bodies are good ones; to feel like their bodies are beautiful ones.
If advertisers still use the concept of beauty or attractiveness as their focus for their ads, especially of sports goods, then they are just reinforcing a norm, regardless of how progressive the ads are trying to be.
Women should be athletic because they want to be, because they enjoy it, not because advertisers are co-opting the language of body-positive feminism to push more products.
Women shouldn't be afraid to be physically strong, but likewise, they shouldn't be scared to be physically weak, either. Regardless of what ads say, strength shouldn't just be measured in terms of physical feats.
There is so much more to aspire to than just physical fitness. And while these ads do celebrate determination, drive and positive attitudes, its goal is to do two specific things: sell a product, and sell an image.
And maybe it's time that image changed.